I was born in 1950, to Peter and Charlotte Kitchell, they were architecture students at Harvard -- beat and mid-century modern. Two more kids followed me into the family in short order, and another much later. I have early memories of my mom looming raya rugs for us with the layout of our town woven into them so we could drive our little wooden cars around on familiar streets. Dad put together hinged plywood squares that were big and awkward; with them we built forts that would fill the room. When they toppled they were heavy enough to bury us. Dad was still working on the concept.
The family moved to San Francisco when dad got a job designing skyscrapers. The city was kid friendly back then, or a least we saw it that way. It was small enough, you could ride a bike from one end of the city to the other and we did with our neighborhood gangs. We hung out in Golden Gate Park, the Presideo, Playland at the beach and the Cliff House, before it burned down. Mom designed and we all worked on building a small vacation house with no electricity 30 miles up the coast from San Francisco. I now know how amazing it was to have grown up with such freedom in a that city and beach town. I regret that my kid's generation has lost that freedom.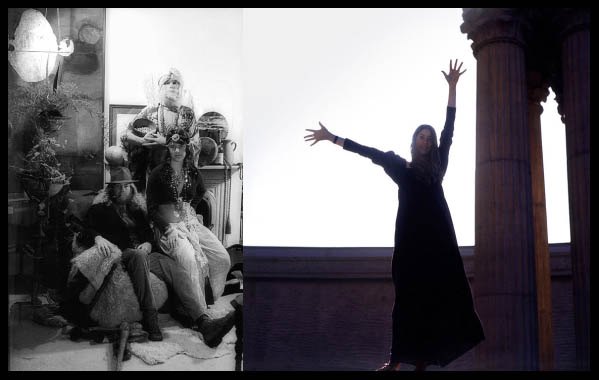 Mark, Vickie, and PK. Wilmot St., S.F.. Holly posing for light show.
While going to an alternative high school in the late 1960s, my friends Peter and Phil and I put together a light show company called Lights by God. We convinced Chet Helms and Bill Graham to let us do shows in their ballrooms, the Fillmore and Avalon. We made enough money to support our equipment habit. It was a way to afford slide film. Far more importantly, we were part of that nascent visual and aural scene. I am thinking back to being on stage with Andy Wharhol's "Plastic Fantastic" with the Velvet Underground.
There was work too. At the same time I was taking traditional printmaking classes at the SanFrancisco Art Institute, then the California College of Arts and Crafts in the East Bay (1968-69). This being the late 60's, any sort of structure was a complete joke. I left school after a year so I could work and save money to travel. Holly and I left from the port of New York on a Greek ocean liner, we rendezvoused in Paris not long after it had exploded in student riots, thrilled, I chose to go off and join the student scene of that city.
Heading north from Paris, I wanted to see the paintings of my heroes. I went to the Stedelijk Museum in Amsterdam, joining in for a couple of days with a commune that had set up as a living exhibit in the museum. In Spain a few months later, I copied Goya's Pinturas Negras at the Prado. Traveling with a couple of hostel buddies I picked up, we camped in castles in the Pyrenees and Portugal. I had a newly outfitted Land Rover in which I planned to cross the Sahara, so we headed across to Morocco. We stayed high (no joke) in the Atlas mountains heading east towards Algiers. Once there, the authorities made us assemble a trans-Saharan caravan of assorted camper vehicles before we could cross the desert. Many months later, more than half the vehicles had made it to the Gold Coast. We were all thiner, most of us sick and a lot smarter.

Central Saharan water well, Berber tribes men.
l drew or painted throughout that two-year trip. My work was often my only connection to the local people, as I couldn't converse in Arabic. For a while I was able to travel with the men of a Berber tribe; we moved by camel, mostly at night to avoid the heat of the day. I took separate trips near Agadez, Tamanrasset, and Timbuktu. The places and the people I stayed with from these ancient cultures had not yet been tainted by tourism in 1971. They were friendly and took us in. We slept in their camps, a time which gave me an amazing opportunity to draw what was all around me. This was the school I was looking for.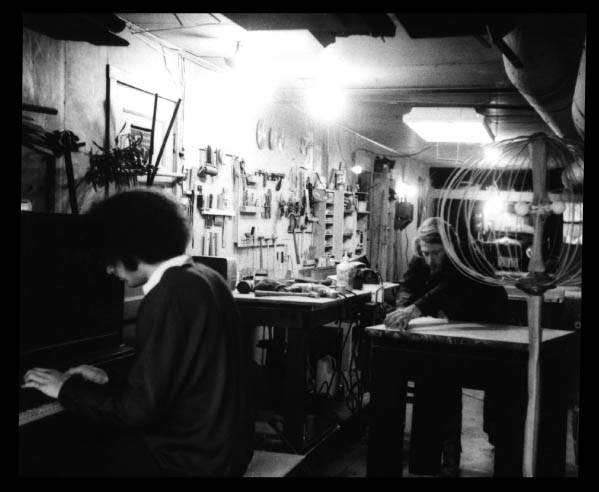 Alan playing jazz while I sand a table. Buchannan St., S.F.
When I returned to the Bay Area, I put together a show from that long trip. (This was to become a main pattern in my life: Travel, collect imagery, return, and report those travels in the form of a show.) Over the next ten years I made my living by doing house painting and cabinetwork until the sales from my paintings began to support me. In the early 1980's posters of my abstract paintings became popular across the globe; selling throughout Australia, Asia, Europe and the Americas; launching my career as a Fine Artist.

PK in Peruvian Andes. Quechua kids doing races organized by Ellie.
The 80's were golden. The economy was flying high and I had shows in New York, Los Angeles, and Chicago. Even so, I could only afford to replace my long-gone Land Rover with a 1960 Ford Ranchero, but I was able to cherry it out for camping in the desert. I spent most springs in the Southwest continuing to paint landscapes. Early in the 1980's, I took some long trips to South and Central America. The images are still strong from those times. On one pilgrimage with Ellie, my girlfriend at the time, we managed to get lost crossing the Andes. We ended up in parts of the Incan Empire seldom seen by anyone but the local Indians. We camped at a 15,000-foot pass and climbed down the eastern slopes of the Andes by way of a huge canyon, descending into the "jungas"-- the high jungle. Along the way we came upon the remains of Incan temples of the highest quality stone work. Most of which were being used as modest sheep corrals. Overtaken by the magic of the place -- it was as if we were in Frederick Church's painting "The Heart of the Andes". Not for the first time, I marveled at how fate had taken care of us.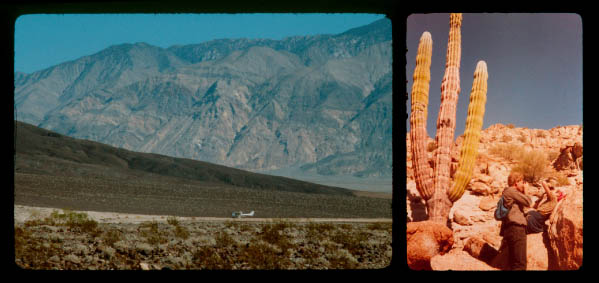 A successful landing (and takeoff) in Panamint Valley, CA. Kathy and me in Baja, CA
Back in California, I was feeling it was time to put down roots somewhere, and I began looking for land where I could build. I returned to the remote Northeastern corner of the state. Severe, and grand in scale, it was high desert and grasslands, not unlike the savannah in Africa, complete with antelope and snow. I had earned a pilot's license and imagined flying in and out of a home in this forgotten place. On a preliminary camping trip there, I woke up one morning from sleeping on the ground to find a rifle from some confused rancher in my face. That day I decided to put down roots somewhere more civilized.

Bryant St. studio, S.F., CA
Back in San Francisco again, I was hanging out with the Nuclear Beauty Parlor, a group of women activists. With one of the members of the group, I flew east to see fall in New England and specifically to explore the Berkshires, the hills of Western Massachusetts. I met some of the artist in the area, and we visited farmland I could actually afford to buy. The dense and vibrant nature of New England was so different from the West Coast, especially the perfect little villages. I was ready to move east after a couple of days. Within a couple of years, I was building a house and studio in a meadow that previously had nothing but an abandoned stone foundation filled with lilies.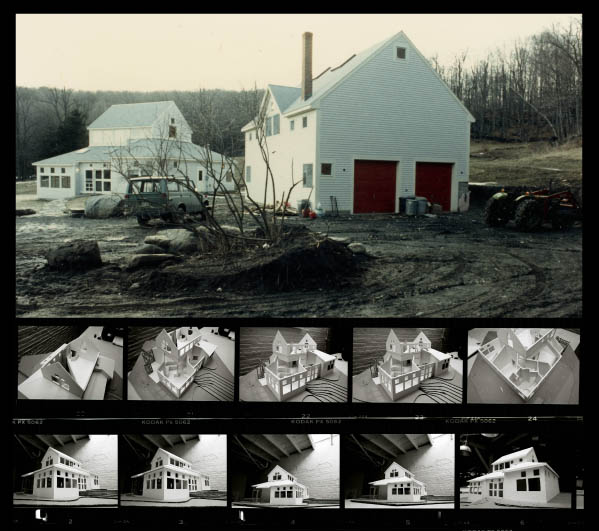 New house and studio in Western MA. Our model for that house.
Settling into a very different life on the East Coast, I left behind the gallery scene in San Francisco, and my studio in the Mission district. I didn't have a clue what the area I was moving into was really like. My West Coast girlfriend (who is now my wife, Gayle) was ridiculed by her friends in the fashion business when they found out she was going east with me. They were sure she was going to end up in plaid shirts and overalls. (Thirty years later she still wears designer black.) Our kids, Sonya and Max were born and raised here. They received educations tailor-fit for them, and have turned themselves into accomplished artists in their own right. Going back to San Francisco, New York or L. A. doesn't do much for me anymore, but for Sonya and Max it's the big city.
Sonya and Gayle in Puerto Rico.
I am a printer and photographer these days, more than a painter, mixing my media in the digital realm. Travel is still my muse. I have a van set up so I can be on the road in remote parts for weeks or months on end. Even so, our acreage is nurturing and I am often taken by the beauty of where we get to live. Along with a group of contemporary photographers, I have kept a monthly show-and-tell going for a couple of years now so we can regularly inspire and critique each other's work. This feeds me deeply too. At the bottom of our meadow, my wife Gayle keeps a Japanese-style pond house decorated and cozy -- cozy if you don't mind having screens for walls. Not far away, I'm clearing and trimming the woods so that large owls can easily fly through the understory (wonderful to watch) or so the eye can travel all the way out to the far meadow.

Canadian Rockies, Coastal Florida.
Often my artwork is custom and will be integrated into a project's architecture, the art is planned along with all the other components of the building. This is particularly true of hospitals and other health-care structures on which I've worked, because so much thinking goes into the considered experience of the place. In the last couple of years I have had the privilege of being selected to do a major part of the art for the largest new facility in this part of New England -- Baystate Health Systems in Springfield, Massachusetts. More recently they have hired me to repurpose artwork of mine that was custom installed in older buildings as they move to new facilities. It's been interesting cutting up my own work and putting it back together in new ways.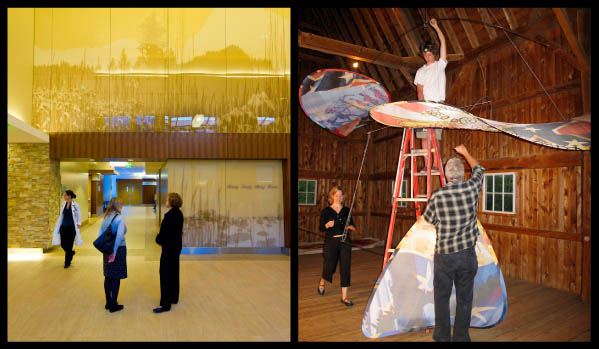 Baystate mural. Fredericksburg mobile being tested. Max, Tracey and PK.
The imagery I do for myself continues to be mostly based in landscape, from the exotic to my backyard: from the mud architecture of Saharan Africa, to the local corn fields, from pagan churches in Norway to New England barns. In the summer of 2012 I wandered from the Northern Plains of the United States far up into Canadian Rockies in the newly outfitted Sprinter. I am now able to plan my wandering from a satellite's eye view, sometimes leading to the odd sensation of already having been in a place as I arrive for the first time.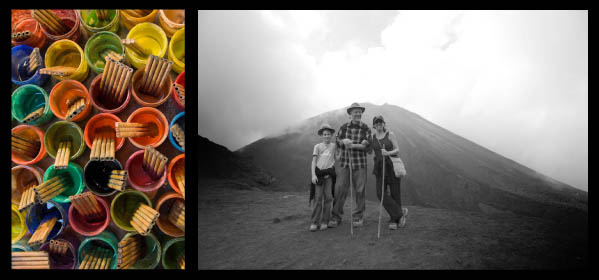 Watercolor mixed up with sumi brushes. Sprinter in Canadian Rockies.
50 years into this art game, I am grateful for all that I have experienced. Now I am watching Sonya's career as a singer and musician take off. Max, I am sure, is not far behind. He is studying photography at Parson's in New York. Through the blog I will expand on what I have been able to cover here.

Gayle and Max. Sonya and PK